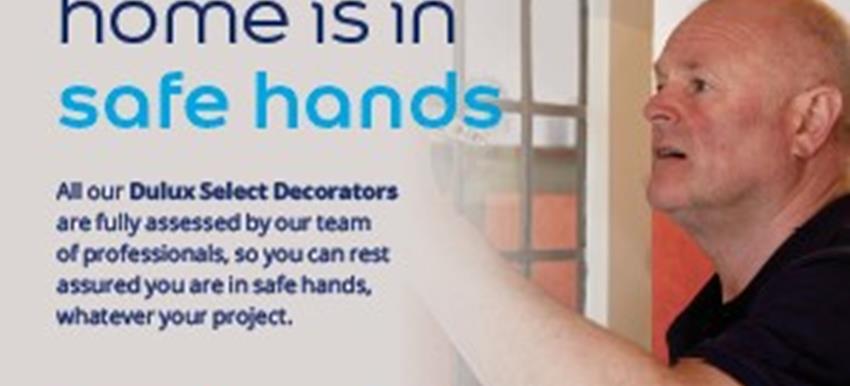 Its incredibly important to the team here at Akzonobel that we are doing everything we can to help the trade as we move out of COVID times and into the second half of 2020, this has lead to a number of marketing initiatives to get people booking decorators again.
SELECT DECORATORS AD CAMPAIGN
First up, we have launched the Select Decorator 'Your Home is in Safe Hands' campaign in magazines as well as online. This campaign is specifically designed to target homeowners who are looking to have work done, and reassure them that is a Dulux Select Decorator will act safely and professionally in their home.
The £50,000 ad campaign has featured in 8 major house and garden magazines as well as being seen by over 3 MILLION people looking at home renovations online. This has resulted in visits to the Select Website increasing to SIX TIMES what it was before the ads went out. Its incredibly important to ensure your profiles are up to date, complete with pictures, skills and great customer feedback. That way they people who are going to the site are more likely to get in contact with you.
Thank you to members Carl Lesh, Des Cass and Steph Howles who featured in the ads online ad helped promote the professionalism of Select Decorators.
DULUX DECORATOR CENTRE SUPPORT
DDC has also done a lot to increase jobs for the trade. With their 'Backing our Decorators' campaign, they have shown that they are dedicated to helping painters and decorators get back to work in any way they can.
This included a host of us useful resources including the Workfinder, to connect decorators with jobs that need help. DDC also put together a support box filled with goodies to help get decorators back to work.
DULUX TRADE SUPPORTING THE TRADE
Finally the Dulux Trade Team are working on something big to come in the coming months, designed to support the trade and getting homeowners booking decorators again, watch this space!