Back
1st Class Painting & Decorating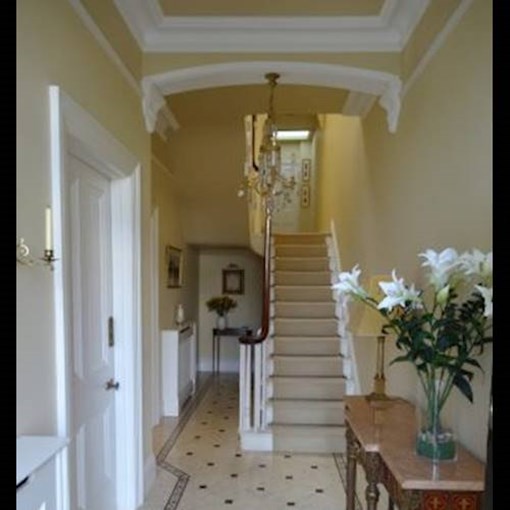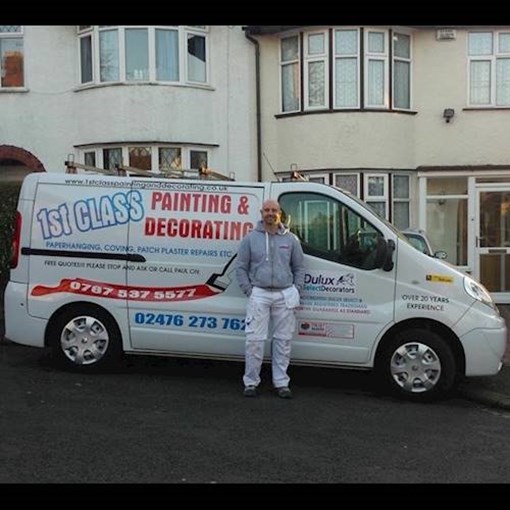 Skills
Cosmetic surface repairs
Coving and cornices
Exterior
Interior
Spray
Wallpaper feature walls
Wallpaper murals
Wallpaper whole room
Wide width vinyl
Accreditations & Associations
Most recent
Customer Reviews
Find out what our customers have to say...
Steve & Lynn Thorpe
Domestic, room, stairs, landing
We used this decorator, Paul, for our dining room, stairs and landing. In a nutshell his work was truly excellent. The attention to detail in his preparation was outstanding and something you don't see much of these days. Basically he takes extreme pride in his work, refitting skirting boards completely because they were badly positioned originally as an example. I particularly liked the folds of the wallpaper into the window bays they were sharp, crisp, tight, Perfect! Paintwork was also excellent the detail in door mouldings was still there, not all 'gobbed up' with excessive paint. Quite simply he is now our decorator of choice, all future business to him. Yes he's expensive BUT if you want quality it costs and Paul delivers, and afterwards you'll realise it was worth every penny.
Deepak Pitrola
I had coving put up in my kitchen by Paul. The ceilings were very tall and the coving was a large traditional plaster style, yet Paul managed to get it installed and finished to an excellent standard, to the point where it is easily assumed to be original. A great achievement for a difficult task like this, but Paul has the skills and the attitude to approach the work properly. The service was extremely smooth, with great communication throughout, completely fair pricing and the utmost attention to detail. Paul is not a tradesman who wants to leave a job because the time is up, but finishes his work to a standard that is consistent and beyond anything you may have already seen. For a job well done, the labour cost is a bargain. Alongside this, Paul was punctual and hardworking everyday, took plenty of time to prepare and cover a newly fitted kitchen and was calm to make no mistakes to waste material. On top of this, as previously reviewed, the advice for painting and general notes were very helpful - an additional benefit of using an experienced and trustworthy trader. I highly recommend Paul, and it will be an enjoyable experience with a top bloke. Of course, top quality service is sought after, and this is shown in his booked up calendar, however he is honest in being able to fit in works where possible
Adriana B
Excellent - Adriana B
Darren and Natalie Wilkinson
This is the 3rd time we've used Paul and every time his work has been exceptional. His attention to detail is second to none and it is very obvious that he knows his trade exceptionally well having explained the different paint options to us in great detail - Darren and Natalie Wilkinson
Contact decorator
Fill in the form below and your chosen decorator will get in touch with you as soon as they can.